Overview
In 2011, Environmental Liability Transfer, Inc. (ELT) played an important role in the Chapter 11 bankruptcy reorganization of General Motors and the subsequent redevelopment of an environmentally-distressed former automotive manufacturing plant located in West Mifflin, PA.
Environmental Liability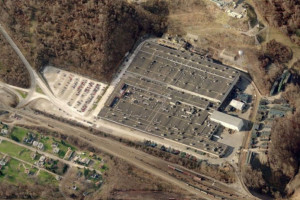 Located on 72 acres in West Mifflin, PA, General Motors occupied this 1,000,000 sq. ft. former stamping plant for 60 years. Following decades of heavy manufacturing, the facility sat unused for three years, which resulted in a deteriorating facility filled with a host of growing environmental problems. For General Motors, this site was designated as an environmental liability, and posed dual threat to their balance sheet and the health of the local community.
Redevelopment of this former stamping plant was a significant challenge due to antiquated site improvements and a variety and high degree of environmental contamination, primarily petroleum hydrocarbons, chlorinated solvents, and polychlorinated biphenyls (PCBs).
Solution: Environmental Liability Transfer
During General Motor's bankruptcy in 2011, ELT agreed to purchase the real estate, buildings, facilities, and environmental liabilities. As a condition of the sale, ELT agreed to assume, and permanently indemnify GM from all environmental responsibilities involving the affected property, including known and unknown, above and below grade, and onsite and offsite contaminants.
This transaction required approvals from the United States Treasury, Pennsylvania Department of Environmental Protection (PADEP), and Federal Bankruptcy Court.
As a condition of the assumption of environmental liabilities, ELT then entered into and signed a Consent Order with the Pennsylvania Department of Environmental Protection (PADEP), which positioned ELT as the new Responsible Party. PADEP was then able to grant a Settlement Agreement to GM permanently releasing them from legacy environmental liabilities at the site.
A required component of the work at this site was to obtain regulatory closure of the site from PADEP's Land Recycling and Environmental Remediation Standards Act (ACT 2 Program). EAG then began remediation efforts, which included: abatement of asbestos and other hazardous materials, demolition of existing structures and recycling of 100,000 tons of steel, post-demolition backfilling with local, clean materials and the beneficial reuse of appropriate demolition materials, in-situ soil treatments, groundwater studies, environmental site assessments, risk assessments, and environmental monitoring.
Working with PADEP, EAG completed the remediation according to the PADEP Act 2 voluntary cleanup program.
Results: Sustainable Redevelopment
By transferring GM's environmental liabilities out of bankruptcy court in 2011, ELT was the catalyst this environmentally-distressed 1,000,000 sq/ft facility needed to progress out of blight and into environmental remediation. Today, this property is fully remediated and occupied by Pull-A-Part, a supermarket for refurbished automotive parts. With 20 locations in 13 states, Pull-A-Part is a stable company currently employing around 25 employees at this West Mifflin facility.
Shortly after Pull-A-Part announced it would be locating to this property, the Mayor of West Mifflin said:
We are extremely gratified that Pull-A-Part has chosen a brownfield site to redevelop and put into commerce, making a multi-million dollar investment and creating good jobs for our community.